Thai dinner with traditional dances
LOCATION: thailand,bangkok
WEB: oldchiangmai.com
PHONE: +66 532029935
OPEN TIME: Start from 19:00 - 21:00; Show Time: 20:00 - 20:50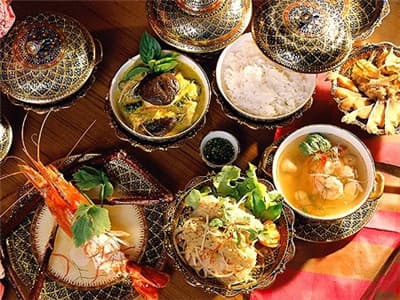 Khan Toke dinner is a traditional Northern Thai food served on Old Chiangmai Cultural Center. It's featured with its traditional Thai style performance. As a famous Lanna cultural attraction, it reserves the traditional Thai lifestyle in combination with a traditional Lanna atmosphere of clothing, language, dining and performances, it is presented under an exquisite and enchanted applied Lanna architecture that ensures satisfaction to all visitors.
See more attractions
More attractions that you might interested in.
Great Bangkok Tour Packages
Bangkok Local Tips
Get drown in information? UME has gathered the most useful guides and tips about Bangkok tourism – everything first timers needs to plan a wonderful dream Bangkok tour.
Tailor-made Thailand Tours
Receive a free quote within 24 hours - Already more than 183,063 satisfied customers!
Create My Trip Now !