Suwan Kuha Temple
LOCATION: thailand,phangnga
WEB: none
PHONE: none
OPEN TIME: none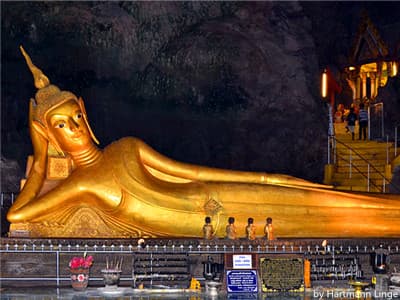 Know locally as Wat Tam (the cave temple), Wat Suwan Kuha is just that - a temple in a cave! Located in a limestone mountain, Suwan Kuha is part of a large complex of caves with names such as Tam Yai, Tam Jaeng, Tam Meud, and Tam Kaew. Tam Yai is the largest cave (20 meters x 40 meters) in the complex and represents the site's entrance. The entire length of Tam Yai features 'Lai Kram' and 'Benjarong' tiles (a typical form of decoration in this part of Thailand) and a number of Buddha images. The principal Buddha image is an extremely impressive 15-metre-long Reclining Buddha.
See more attractions
More attractions that you might interested in.
Tailor-made Thailand Tours
Receive a free quote within 24 hours - Already more than 183,063 satisfied customers!
Create My Trip Now !