Sras Srong
LOCATION: cambodia,siem-reap
PHONE: +855 12 406 929
OPEN TIME: none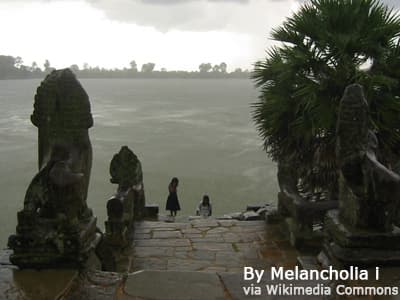 The Srah Srang is a large lake where occupies 700*300 meters, with a large scale platform where you can have well views here. There is always full of water in the Srah Srang where surrounded by greenery. There is a saying from a French Architect; it brings the most beautiful Angkor garden landscape at dusk. The Srah Srang was built by order of Aldehydes Yahya VII at the end of 12th century, and it is used to worship the Bodhisattvas, belongs to worshipping cloud architecture.
When it mentioned the best place for watching the sunrise at Angkor Wat, Srah Srang should be listed. Because there are not so many people watching sunrise here, and the most attractive is the water that is used for watching is bigger than the Angkor Temple. Don't miss this place if you want more amazing pictures of Sunrise at Angkor!
See more attractions
More attractions that you might interested in.
Explore Siem Reap City
Find complete list of Cambodia tour packages including culture, nature, food or adventure activities for families and couples. The choices of over 90% customers with reasonable price! Get your customizable itinerary in UME now!
Tailor-made Cambodia Tours
Receive a free quote within 24 hours - Already more than 183,063 satisfied customers!
Create My Trip Now !