Sompong Thai Cooking Class
LOCATION: thailand,bangkok
PHONE: +66 84 779 8066
OPEN TIME: 9:30 - 22:30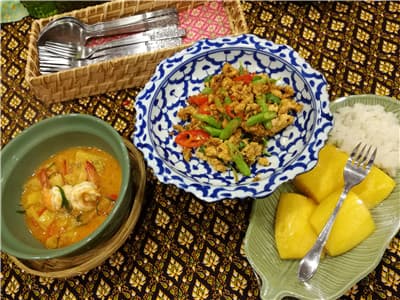 Sompong Thai Cooking Class School is brilliant for a private Thai cooking lesson. Discover the secrets of making Thailand's distinctive cuisine and take part in a real Thai cooking as you receive step-by-step cooking instruction at a gorgeous colonial house that contains both a fine Thai restaurant and renowned cooking school. The teacher will take you to a local market sightseeing to absord an exotic local fresh fruits and vegetables. Return to the school, you will take part in a warm, open and interactive cooking session during which the instructor demonstrates and explains the unique narrative of each Thai dish. You can finally enjoy all your food that you have cooked and also take away pack if you cannot finish it. You can explore local markets after the class.
See more attractions
More attractions that you might interested in.
Great Bangkok Tour Packages
Bangkok Local Tips
Get drown in information? UME has gathered the most useful guides and tips about Bangkok tourism – everything first timers needs to plan a wonderful dream Bangkok tour.
Tailor-made Thailand Tours
Receive a free quote within 24 hours - Already more than 183,063 satisfied customers!
Create My Trip Now !