Segway
LOCATION: thailand,chiang-mai
WEB: none
PHONE: none
OPEN TIME: 24h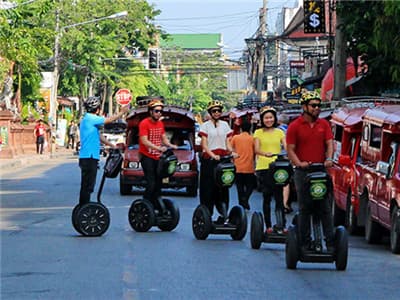 Segway walk is the best way to experience Chiang Mai city with two guides per group to keep you safe and educate you on the old city. The 2-hour tour includes stops at three Kings Monument, Wat Chiang Man, Wat Phra Singh, Wat Pan Tao, Buak Had Park and Wat Chedi Luang. Experience the largest city in Northern Thailand, and the former capital of the ancient kingdom of Lana in the north of Thailand.
See more attractions
More attractions that you might interested in.
Chiang Mai Travel Guide
Explore Chiang Mai holidays and discover the best things to do, top local restaurants, supreme shopping places and when and where to visit, etc.
Tailor-made Thailand Tours
Receive a free quote within 24 hours - Already more than 183,063 satisfied customers!
Create My Trip Now !