Samphran Elephant ground and Crocodile farm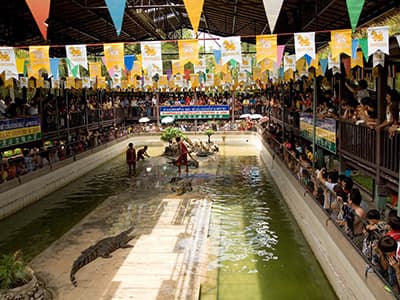 The Elephant Theme Show and The Crocodile Wrestling Show in Samphran Elephant ground and Crocodile farm are the popular edutainment for Daily Bangkok Sightseeing. Acknowledge the relations of mahout and the elephants. Watch elephant round-up ceremony by Suay people. Amazing the elephant dance, racing, painting,football and more fun games. Then, re-enacting Yutha Hathi, the great royal battle scene on elephant back in Ayuthaya period. A spectacular of Crocodile Wrestling Show originated from the traditional legend. See the talent and traditional knowledge to deal with these primeval alligator. The crocodile farm here are acclaimed to be the cleanest and most impressive crocodile displays in the world.
Explore Bangkok City
Find complete list of Thailand tour packages including culture, nature, food or adventure activities for families and couples. The choices of over 90% customers with reasonable price! Get your customizable itinerary in UME now!
Discover All Attractions
Browse a large range of must-see landmarks, explore unique tourist spots like a local or go somewhere off the beaten track.
Your Complete Guide to Bangkok
A complete and practical insider Bangkok travel guide on must see, things to do and eat, and the best ways to design your Bangkok tour. Be sure to check out these !
Tailor-made Thailand Tours
Receive a free quote within 24 hours - Already more than 183,063 satisfied customers!
Create My Trip Now !