Reunification Palace(Independence Palace)
LOCATION: vietnam,ho-chi-minh-city
PHONE: +84 28 3008 5039
OPEN TIME: 07:30 - 11:00 and 13:00 - 16:00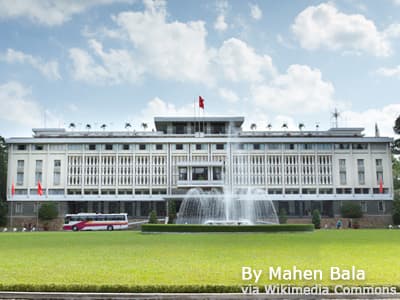 Reunification Palace, also called Independence Palace, made its name well-known in global history since 1975. Maybe you heard a bit of the history – A tank belonging to the North Vietnam Army crashed through its main gate, which made the Vietnam War end. Nowadays, the Independence Palace is honored as a must-visit place in Ho Chi Minch city. There are flourishing gardens, secret apartments, vintage furniture and a command bunker. The Palace is in use to host important meeting in Ho Chi Minh, including the APEC summits.
You can feel the features of tunnels, a war room and telecommunications center. There are original maps on the walls, the period telecommunication equipments, a card playing room and the casino you will look for. Please go the east side of the Palace garden, you can get tickets at this gate; and then the security will check your bags for safety reasons. They provide English, French, Japanese and Chinese speaking guides. That will not be problem when you visit here, no worries about interpreting, feel relax at your way.
See more attractions
More attractions that you might interested in.
Explore Ho Chi Minh City City
Find complete list of Vietnam tour packages including culture, nature, food or adventure activities for families and couples. The choices of over 90% customers with reasonable price! Get your customizable itinerary in UME now!
Tailor-made Vietnam Tours
Receive a free quote within 24 hours - Already more than 183,063 satisfied customers!
Create My Trip Now !