Pung Chang Cave
LOCATION: thailand,phangnga
WEB: none
PHONE: none
OPEN TIME: none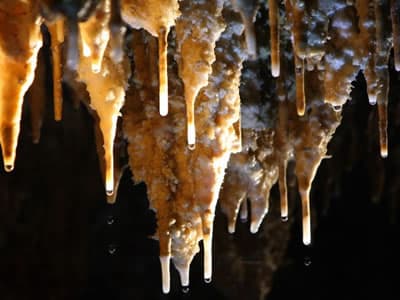 Exquisite nature situated at Amphur Muang
Pung Chang cave is a destination for tourists who love adventure since they will require rafts or canoes to travel through it. It is located between Ao Nang and Phuket. Pung Chang cave is near the area of Prajimkate Temple, where there is stream flowing all year and many big and small caves. Travelers will be able to view the miracle of nature including stalagmites of incredible limestone formations and colors.
The stream at the center of the cave shows that it is airy inside. The drops of water on the surface of each stalagmite shine brightly like diamonds when reflected in the lamps worn by visitors. The formations appear in various figures such as fishermen, fish and different figures of elephants. It takes around one hour and a half to tour this cave, which is about 600 meters long. Apart from the beauty, Pung Chang cave is the second location where the Khun Kitti bat, the smallest bat in the world, was discovered.
To take this trip you have to arrive at the caves between 10am and 2pm.The entrance fee to Pung Chang cave is 200 baht per person.
See more attractions
More attractions that you might interested in.
Tailor-made Thailand Tours
Receive a free quote within 24 hours - Already more than 183,063 satisfied customers!
Create My Trip Now !