Pre Rub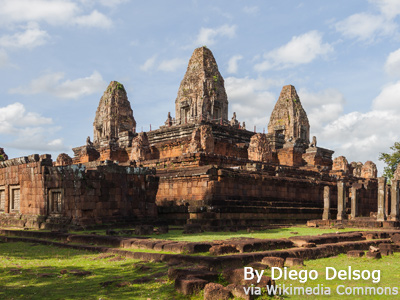 The Pre Rup is a temple mountain in Angkor Wat complex, where was built in second half of the 10th century (961)by the King Rajendraman II dedicated to the god Siva (Hindi), replica to Pre Rup style of art. Same as the other temples in Angkor Wat, the Pre Rup is composed by laterite and brick, and is located at northeast of Srah Srang.
In fact, the name of this temple was endowed with a relatively modern one meaning "turn the body", what reflects a general belief among Cambodians that the temple used as the cremations for royal people were conducted here, and with the body turning into ashes, the spirit can go to the Heaven.
Warm Tips provided (you will find sense of different beauty):
1 Seize the time at early in the morning or when the sun is setting, you will enjoy the most original beauty of the brick and laterite.
2 From the top terrace, look east, you will see through the Phnom Bok and the mountain chain of Phonm Kulem.
3 From the top terrace, look west, you will distinguish the towers of Angkor Wat on that far horizon.
See more attractions
More attractions that you might interested in.
Explore Siem Reap City
Find complete list of Cambodia tour packages including culture, nature, food or adventure activities for families and couples. The choices of over 90% customers with reasonable price! Get your customizable itinerary in UME now!
Tailor-made Cambodia Tours
Receive a free quote within 24 hours - Already more than 183,063 satisfied customers!
Create My Trip Now !