Prang Sam Yot(Monkey Temple)
LOCATION: thailand,lop-buri
WEB: www.lopburi.org
PHONE: 086-8103413
OPEN TIME: 08:30 - 17:00 everyday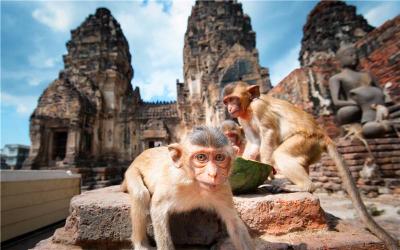 History
The 'Temple of Three Prangs' is regarded as Lopburi's chief landmark. Built as a Hindu monument, the prangs of the laterite-sandstone structure are said to represent the trinity of Brahma, Vishnu and Shiva. During the reign of King Narai it was converted to a Buddhist temple and some ruined Lopburi period Buddhas remain as evidence of this.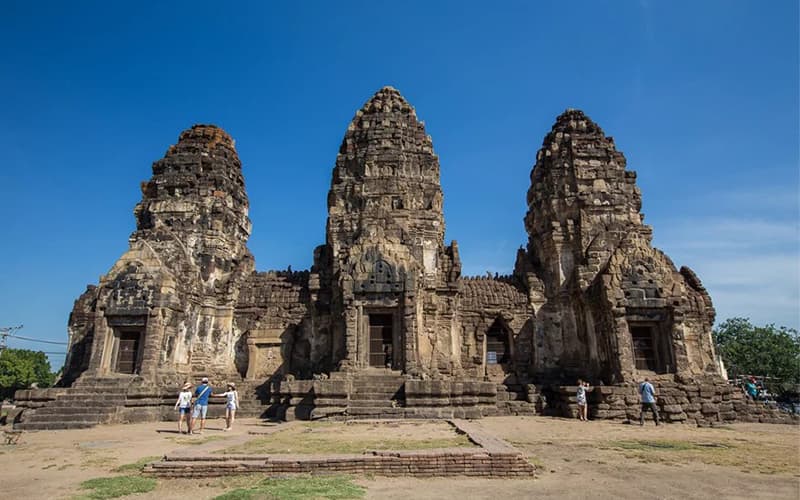 Monkeys Everywhere!!!

In some meanings, this temple is much well-known for the large number of wild monkeys. Those long-tailed macaque monkeys gather at the temple, constantly on the lookout for food. This small and old temple remains a strong attraction by the reputation of these lovely creatures. Hence, local sellers are pleasure to see them and feed them timely. They are not permitted in and pretended from heavy mesh gates. This is to keep the clean and inviolability of Buddha. You can spend a lot of time outside the temple and hang around with them.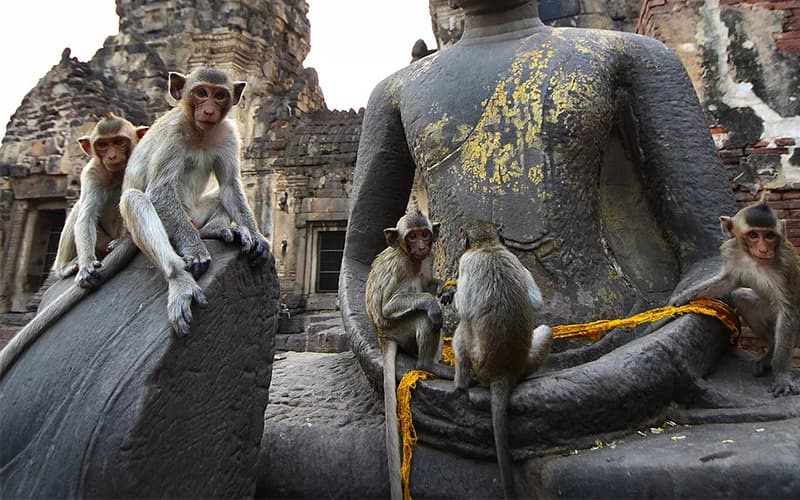 Monkey Buffet Festival
On the annual festival "Monkey Buffet Festival", monkeys' carnival reaches the peak. The monkey population is over 2,000 and most of them will be attracted by hill-like fruits presented by local residence at that day. They didn't seem being disputed by outer presence and enjoy their hearty dinner.
Younger curious monkeys would like to climb up to shoulders, spin, jump up and down to play with tourists. The adults, especially with babies, might be more stimulated. The monkeys like food that you buy locally.
There are a lots to see in Thailand, click and see more Interesting Facts in Thailand.
Be Careful When Play with Them

However, living in such a close relationship might teach them to make gains without any work. Naturally, the easiest targets are fully-bagged tourists. Such aggressions like snatching treats and personal belongs right out of your hands might appear from time to time.
So you had better to keep all belongs in bags and be careful when some trying jump on you. Keep careful not be surrounded and too far with crowd. In any unexpected cases, just ask another local to help chase them away camly.
See more attractions
More attractions that you might interested in.
Tailor-made Thailand Tours
Receive a free quote within 24 hours - Already more than 183,063 satisfied customers!
Create My Trip Now !