Phnom Sampeau Mountain
LOCATION: cambodia,battambang
WEB: none
PHONE: none
OPEN TIME: none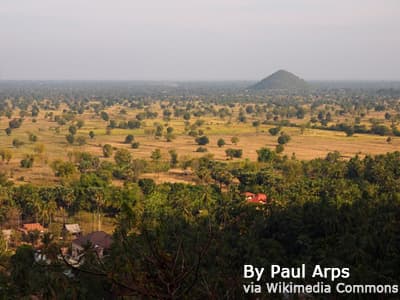 Phnom Sampeau would be an interesting place even if it weren't for the rather grisly recent history. The hill rises sharply from the flat surrounding countryside about 14 kilometers south of Battambang, affording a great view of Battambang and the rest of the countryside. The saddle-backed hill has temple complexes on both of its peaks. The temple on the slightly lower peak is built over a complex of caves, which are the focus of the grisly recent history. The temple's prayer hall was used by the Khmer Rouge to house prisoners. The temple on the higher point of the hill is perched right on the edge of the cliff. The complex consists of several towering pagodas, all of which seem to be rather new. There are no bone collections here, but there are two gun emplacements that were used to help beat back the Khmer Rouge.
See more attractions
More attractions that you might interested in.
Explore Battambang City
Find complete list of Cambodia tour packages including culture, nature, food or adventure activities for families and couples. The choices of over 90% customers with reasonable price! Get your customizable itinerary in UME now!
Tailor-made Cambodia Tours
Receive a free quote within 24 hours - Already more than 183,063 satisfied customers!
Create My Trip Now !