Phnom Chhnork limestone cave
LOCATION: cambodia,kampot
WEB: none
PHONE: none
OPEN TIME: none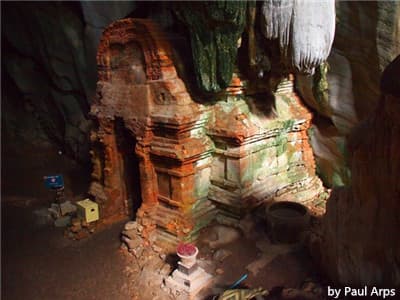 Phnom Chhnork is the most spectacular group of caves in Kampot area. But what is unique about Phnom Chhnork is that there is a remnant of a brick house in the main cave that dates back to the 7th century in the Funan Kindom. Due to the protection of cave, the brick structure is in good condition. The stalactites and stalagmites growing in the temple offer an impressive visual effect.
If you wanna join the culture and history of Cambodian, this is a good place. This would be a nice trip to close the real Cambodia, and the cave is good and cool. As well, you can explore other nearby caves. Be careful because there are some tricky climbs that can be annoying in the autumn. Bring the torch as much as possible.
Travel tips
Get there easily by bicycle, motorbike or Tuk Tuk.
Half way is bumpy unsealed, 8kms from Kampot.
You'll be attracted by local kids wanna to guide you for a small tip (around $1).
An entrance fee sometimes needed depending on the day.
See more attractions
More attractions that you might interested in.
Explore Kampot City
Find complete list of Cambodia tour packages including culture, nature, food or adventure activities for families and couples. The choices of over 90% customers with reasonable price! Get your customizable itinerary in UME now!
Tailor-made Cambodia Tours
Receive a free quote within 24 hours - Already more than 183,063 satisfied customers!
Create My Trip Now !