Manuha Temple
LOCATION: myanmar,bagan
WEB: none
PHONE: none
OPEN TIME: none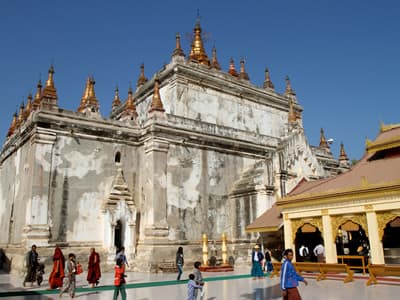 The Manuha temple was built in 1067 by the King Manuha of a Mon Kingdom, and the named from the King's name. According to the history records, Manuha built it after spend a decade in captivity in Bagan. The Manuha temple is one of the oldest temples in Bagan.
In front of you, the Manuha temple is in rectangular-shape building with white washed. The top is much smaller than the lower. You can see there are four large gold painted images of the Buddha enshrined in the temple, each image stays in a separate room. They are too large that there is almost not enough space to accommodate the images. The back of the building enshrines a 90-foot golden reclining Buddha with a calm facial expression.
See more attractions
More attractions that you might interested in.
Explore Bagan City
Find complete list of Myanmar tour packages including culture, nature, food or adventure activities for families and couples. The choices of over 90% customers with reasonable price! Get your customizable itinerary in UME now!
Tailor-made Myanmar Tours
Receive a free quote within 24 hours - Already more than 183,063 satisfied customers!
Create My Trip Now !