Mandalay Hill
PHONE: +95 9 45492 0545
OPEN TIME: none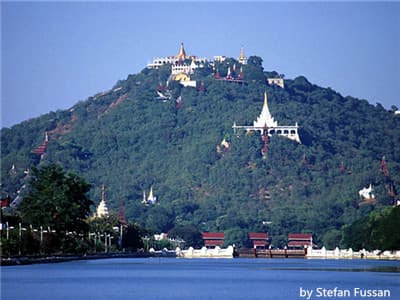 Mandalay Hill is a 240 metres (790 ft) hill that is located to the northeast of the city centre of Mandalay in Burma. The city took its name from the hill. Mandalay Hill is known for its abundance of pagodas and monasteries, and has been a major pilgrimage site for Burmese Buddhists for nearly two centuries. At the top of the hill is the Sutaungpyei (literally wish-fulfilling) Pagoda. A panoramic view of Mandalay from the top of Mandalay Hill alone makes it worthwhile to attempt a climb up its stairways. There are four covered stairways calledsaungdan leading up the hill from the south, southeast, west and north, and convenient seats of masonry work line these stairways all the way up. A one-way motor road today saves time and also makes it accessible for those who are unable to climb up the stairs, leading to an escalator and a lift to the pagoda at the summit.
Discover All Attractions
Browse a large range of must-see landmarks, explore unique tourist spots like a local or go somewhere off the beaten track.
Tailor-made Myanmar Tours
Receive a free quote within 24 hours - Already more than 183,063 satisfied customers!
Create My Trip Now !