Maeklong Railway Market
LOCATION: thailand,samut-songkhram
WEB: none
PHONE: none
OPEN TIME: none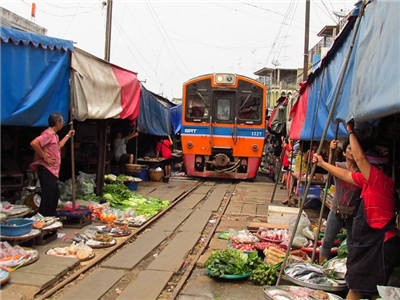 Fish vendors lug their buckets into the shadows. Photographers emerge from the woodwork to snatch a spot near the track. Men lower the umbrellas as pineapples and mangosteens tumble from their baskets. A lazy day at Samut Songkhram's Mae Khlong market has transformed into a chaotic scene. Turning around, we realise why: "That train's not going to try coming through here, is it?"
Set along the Mae Khlong river some 70 kilometres southwest of Bangkok the market is also known as Talad Rom Hub, or "Folding Umbrella Market." Another nickname is "Talad Sieng thay", which loosely translates to "dangerous but you have to go anyway market". At first glance, it doesn't seem "dangerous," but it is cramped. We could hardly push through the narrow tracks used as the market's main footpath; a full-size locomotive getting through seemed out of the question.
Our first impression was that it's a great place to pick up fresh fruit, vegetables and spices, and we found the market to boast a fine selection of fresh fish, including no shortage of the Samut Songkhram specialty pla tuu (Thai mackerel). Though most vendors sell fresh foods to be prepared later on, a handful offer ready-to-eat finger foods for munching as you walk.
Apart from its impressive selection of fish and curious setting around old train tracks near the river, Mae Khlong reminded us of countless other Thai wet markets: colourful, eclectic, pungent, hot and tight. From a Western traveller's point of view, markets like this are anything but ordinary.
See more attractions
More attractions that you might interested in.
Tailor-made Thailand Tours
Receive a free quote within 24 hours - Already more than 183,063 satisfied customers!
Create My Trip Now !