Mae Kok River
LOCATION: thailand,chiang-rai
WEB: none
PHONE: none
OPEN TIME: none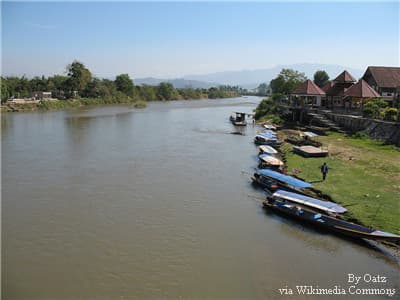 The Kok River (Thai: แม่น้ำกก, rtgs: Maenam Kok, Thai pronunciation: [mɛ̂ːnáːm kòk]) flows in Southeast Asia.
The river originates in the Daen Lao Range, Shan State, Burma. It flows eastwards across the Myanmar-Thailand border, coming in at the Thai border town of Tha Ton (Thai: ท่าตอน, also spelled Thaton ). It flows to Mae Ai district, Chiang Mai Province. Most of its length in Thailand is in Chiang Rai Province where it passes Mueang Chiang Rai District after which it bends northeastwards and flows through Mae Chan, Wiang Chai and Chiang Saen districts.
It is a wide, shallow, and slow-moving river. There is about 600 metres (2,000 ft) of small-scale whitewater halfway between the towns of Taton and Chiang Rai. Alongside the Mae Kok river, an hour's boat ride upstream from Chiang Rai town, is a touristy "elephant camp" on its north shore.
For several kilometres downriver from Chiang Rai, the river becomes a lake, until it reaches the irrigation dam near Wiang Chai.
The Kok River is a tributary of the Mekong River, with its mouth at Sop Kok in Chiang Saen district, opposite the Lao border.
Phahonyothin Road crosses this river near Chiang Rai City. Altogether, there are five bridges crossing the Mae Kok river near Chiang Rai city.
See more attractions
More attractions that you might interested in.
Chiang Rai Tour
Chiang Rai is an expansive playground for nature lovers with verdant forests and endless mountains. We are pleased to present the best tours in Chiang Rai and other popular destinations in Thailand. All tours below can be customized.
Chiang Rai Travel Guide
We offer you complete travel guide to Chiang Rai, including when to visit, what to see and where to stay etc. These guides will help you to explore the beautiful nature, rural culture and local way of life in Chiang Rai.
Tailor-made Thailand Tours
Receive a free quote within 24 hours - Already more than 183,063 satisfied customers!
Create My Trip Now !