Lugou Bridge
LOCATION: china,beijing
WEB: lugouqiao.org.cn
PHONE: none
OPEN TIME: 8:00 AM - 5:00 PM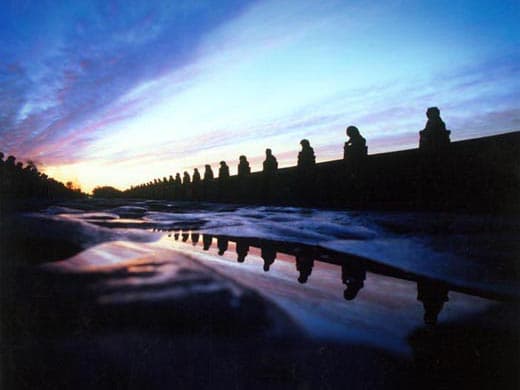 LuGou Bridge, also named Marco Polo Bridge, crosses the Yongding River is situated 15 Kilometers southwest of Tiananmen, the center of Beijing. There are carved lions with careful craftsmanship on both sides, which make it reputed and attracted. This bridge is 213.15 meters in length, if plus the Approach Bridge; it should be 266.5 meters long. The width is 7.5 meters. 
Why does it called Marco Polo Bridge? Maybe you have seen it in the book named "the Travels of Marco Polo", he had visited this bridge and thought highly of it second-to-none, this bridge is described as a gorgeous and beautiful bridge; therefore it was called "Marco Polo Bridge". 
This construction of the original bridge on this site commenced in 1189 and was completed in 1192, later was reconstructed in 1698. Yes, she is very old. On one of the steles, the event of reconstruction of the bridge by Emperor Kangxi of the Qing Dynasty was recorded. On the other stele, you can see the calligraphy by Emperor Qianlong who is the grandson of Kangxi. It reads" Morning moon over Lugou", this bridge has been a well-known sight since its completion for 700 years. 
See more attractions
More attractions that you might interested in.
Best Beijing Tour Packages
Holidays in Beijing - Find complete list of Beijing amazing itineraries to turn your travel dreams into reality, such as Food Heaven, Imperial Delights, Architectural Ambition and Acrobats & Artists. Best customized tours to get a taste of a vibrant Beijing!
Tailor-made China Tours
Receive a free quote within 24 hours - Already more than 183,063 satisfied customers!
Create My Trip Now !