Koh Poda
LOCATION: thailand,krabi
WEB: none
PHONE: none
OPEN TIME: none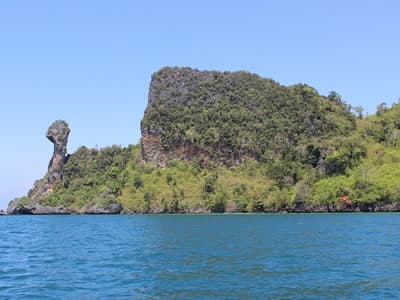 Ko Poda. The northern tip of the island is the most scenic part, due to the presence of a beautiful limestone island. Unfortunately that's also the area where the longboats stop, as well where hundreds of tourists sit to eat their tour-provided lunch boxes. A short walk from there, however, leads to the south part of the island, which is far more pleasant and quieter. Ko Poda's beach is excellent for swimming, having crystal-clear waters where one does even need snorkelling gear to spot the fish.
See more attractions
More attractions that you might interested in.
Krabi Travel Packages
Explore the natural beauty in Mu Ko Phi Phi National Park. Take a gentle stroll with the waves on Ao Nang and Railay Beach and paddle through the limestone cliffs rising from the emerald green waters. These excursions and activities can only be experienced through a wonderful trip to Krabi. Check the following routes, all can be customized according to your needs!

Island & Beach
10 days | From $ 1200

Nature & Adventure
11 days | From $ 1599
Tailor-made Thailand Tours
Receive a free quote within 24 hours - Already more than 183,063 satisfied customers!
Create My Trip Now !