Karon Beach
LOCATION: thailand,phuket
WEB: none
PHONE: none
OPEN TIME: none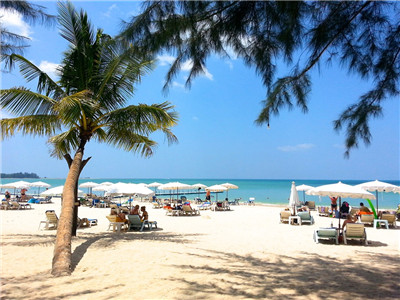 Karon Beach is located on the west coast of the south-central island, not far from Patong Beach. It is one of the three beaches in Phuket. The white sand beach is one of Phuket's most beautiful beaches.


The 3 km coastline of the beach is naturally straight, with almost no curvature. On a sunny day, the scenery of Karon Beach is worth enjoying quietly. It is also suitable for water activities and sunbathing. From December of the following year to April of the following year, the beach is smooth and is best for swimming. After May, the waves are relatively large. Swimming is usually forbidden for safety reasons.
Tip: During the rainy season from May to October each year, you should be careful when swimming in the Karen Sea and be careful to insert a red warning flag because there will be more storms during this time. When the red flag is inserted, activities near the beach should be avoided.
See more attractions
More attractions that you might interested in.
Best Phuket Tour Packages
Whether you want a leisure time on beaches, adventure world under the water, have a particular passion for wildlife or combine your Phuket Tour with other destinations in Thailand. Choose from the following tour packages and customize your perfect trip with the help of our specialists.
Completed Phuket Travel Guides
Allow us to be your ultimate Phuket travel guide. Here's the list of our insider's guides to Phuket.
Tailor-made Thailand Tours
Receive a free quote within 24 hours - Already more than 183,063 satisfied customers!
Create My Trip Now !