Karen village
LOCATION: thailand,chiang-rai
WEB: none
PHONE: none
OPEN TIME: none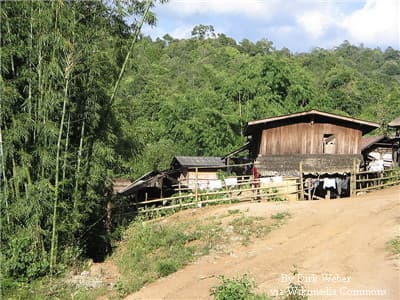 The Karen, Kayin, Kariang or Yang people ( pronounced: [kəjɪ̀ɴ lù mjó]; Per Ploan Poe or Ploan in Poe Karen and Pwa Ka Nyaw or Kanyaw in Sgaw Karen; Thai: กะเหรี่ยง or ยาง) refer to a number of individual Sino-Tibetan language speaking ethnic groups, many of which do not share a common language or culture. These Karen groups reside primarily in Karen State, southern and southeastern Myanmar. The Karen make up approximately 7 percent of the total Burmese population with approximately 5 million people. A large number of Karen have migrated to Thailand, having settled mostly on the Thailand–Myanmar border.
The Karen groups as a whole are often confused with the Padaung tribe, best known for the neck rings worn by their women, but they are just one sub-group of Red Karens (Karenni), one of the tribes of Kayah in Kayah State, Myanmar.
Some of the Karen, led primarily by the Karen National Union (KNU), have waged a war against the central Burmese government since early 1949. The aim of the KNU at first was independence. Since 1976 the armed group has called for a federal system rather than an independent Karen State.
See more attractions
More attractions that you might interested in.
Chiang Rai Tour
Chiang Rai is an expansive playground for nature lovers with verdant forests and endless mountains. We are pleased to present the best tours in Chiang Rai and other popular destinations in Thailand. All tours below can be customized.
Chiang Rai Travel Guide
We offer you complete travel guide to Chiang Rai, including when to visit, what to see and where to stay etc. These guides will help you to explore the beautiful nature, rural culture and local way of life in Chiang Rai.
Tailor-made Thailand Tours
Receive a free quote within 24 hours - Already more than 183,063 satisfied customers!
Create My Trip Now !