Imperial Citadel
LOCATION: vietnam,hue
PHONE: +84 90 448 11 57
OPEN TIME: 07:00 - 17:30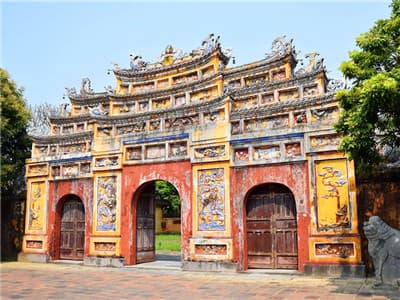 The Imperial Citadel of Thang Long (Vietnamese: Hoàng thành Thăng Long) is the cultural complex comprising the royal enclosure first built during the Lý Dynasty and subsequently expanded by the Trần, Lê and finally the Nguyễn Dynasty. The ruins roughly coincide with the Hanoi Citadel today.
The royal palaces and most of the structures in Thang Long were in varying states of disrepair by the late 19th century with the upheaval of the French conquest of Hanoi. By the 20th century many of the remaining structures were torn down. Only in the 21st century are the ruin foundations of Thang Long Imperial City systematically excavated.
See more attractions
More attractions that you might interested in.
Explore Hue City
Find complete list of Vietnam tour packages including culture, nature, food or adventure activities for families and couples. The choices of over 90% customers with reasonable price! Get your customizable itinerary in UME now!
Tailor-made Vietnam Tours
Receive a free quote within 24 hours - Already more than 183,063 satisfied customers!
Create My Trip Now !