Gyantse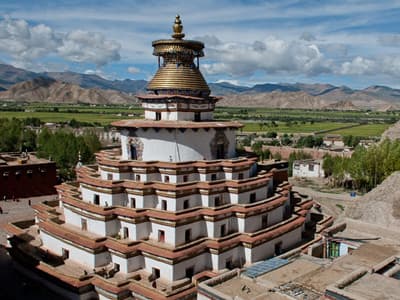 Gyantse (also spelled Gyangtse; Tibetan: རྒྱལ་རྩེ་, Wylie: rgyal rtse, ZYPY: Gyangzê; Chinese: 江孜镇; pinyin: Jīangzǐzhèn) is a town located in Gyantse County, Shigatse Prefecture, Tibet Autonomous Region, China. It was historically considered the third largest and most prominent town in the Tibet region (after Lhasa, and Shigatse), but there are now at least ten larger Tibetan cities.
The town is strategically located in the Nyang Chu valley on the ancient trade routes from the Chumbi Valley, Yatung and Sikkim, which met here. From Gyantse, routes led to Shigatse downstream and also over the Karo La (Pass) to Central Tibet. The fortress (constructed in 1390)guarded the southern approaches to the Yarlung Tsangpo Valley and Lhasa.The town was surrounded by a wall 3 km long.
See more attractions
More attractions that you might interested in.
Tailor-made China Tours
Receive a free quote within 24 hours - Already more than 183,063 satisfied customers!
Create My Trip Now !