Chauk Htat Gyi Buddha
LOCATION: myanmar,yangon
WEB: none
PHONE: none
OPEN TIME: none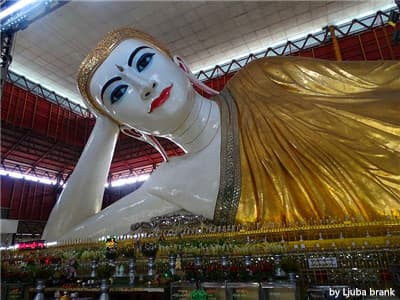 Chauk Htat Gyi Pagoda is located on Shwe Gon Taing Road. Tamwe Township. Yangon. Similar ones are Ngar Htat Gyi Buddha (5-Storey-High Buddha) and Koe Htat Gyi Buddha (9-Storey-High Buddha). Chauk Htat Gyi is the 6-Storey-High Buddha Image.
The Chauk Htat Gyi Pagoda is famous for its huge image of Reclining Buddha. built in 1966 replacing the old image built in 1907 by Sir Hpo Thar. But it was suffered damage due to climate over the years. In 1957 it was demolished and rebuilt to this structure in 1966. It measures 65 meters and is housed in an iron structure with corrugated iron sheets roof of six layers.

Hence it is generally referred to as the six-tiered pagodas. The heavy cost of this construction was entirely donated by the people. The image is larger than the image of the Reclining Buddha at Shwe Thar Hlyaung Pagoda in Bago.
See more attractions
More attractions that you might interested in.
Explore Yangon City
Find complete list of Myanmar tour packages including culture, nature, food or adventure activities for families and couples. The choices of over 90% customers with reasonable price! Get your customizable itinerary in UME now!
Tailor-made Myanmar Tours
Receive a free quote within 24 hours - Already more than 183,063 satisfied customers!
Create My Trip Now !