Buffet Lunch on Board
LOCATION: thailand,bangkok
WEB: none
PHONE: none
OPEN TIME: none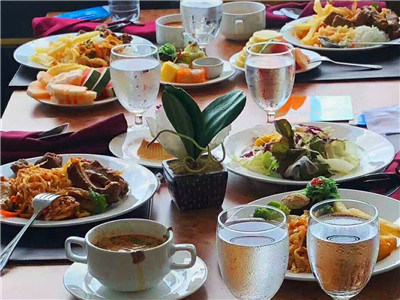 Bangkok is famous for its delicacies, from street food to Michelin stars. 
This is the city's most famous buffet, which is filled with a truly global cuisine, including Japanese, Italian, Thai and Chinese cuisine, to ensure that you are coveted. 
In particular, you can try a buffet lunch on the board, which can make you feel good. 
Impressive fresh seafood spreads include sushi, sashimi, California rolls and Alaskan king crab claws.
See more attractions
More attractions that you might interested in.
Great Bangkok Tour Packages
Bangkok Local Tips
Get drown in information? UME has gathered the most useful guides and tips about Bangkok tourism – everything first timers needs to plan a wonderful dream Bangkok tour.
Tailor-made Thailand Tours
Receive a free quote within 24 hours - Already more than 183,063 satisfied customers!
Create My Trip Now !