Bhuping Palace
LOCATION: thailand,chiang-mai
WEB: none
PHONE: none
OPEN TIME: none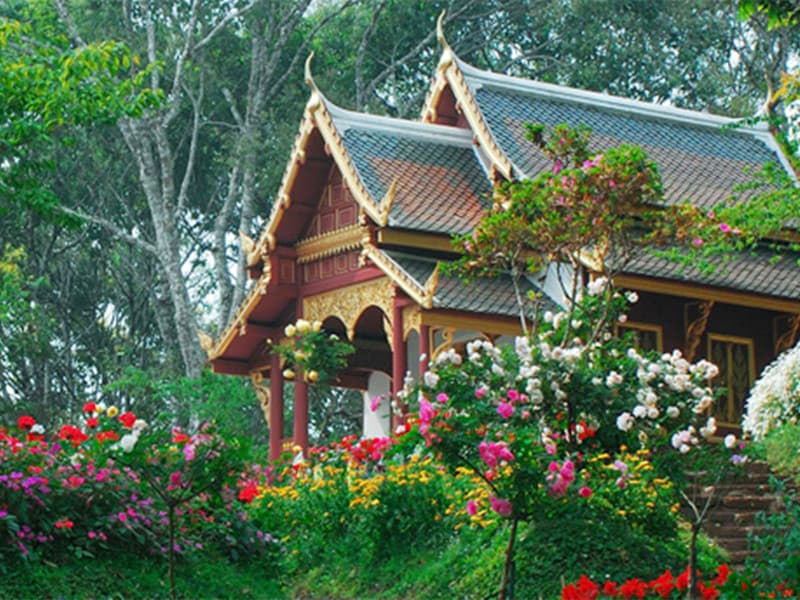 Bhubing Rajanives Palace is a royal residence in Doi Buak Ha, Muang District, Chiang Mai Province, Thailand. It was built in 1961 to accommodate the royal family during state visits to Chiang Mai.[1] There is also a guesthouse for receiving foreign dignitaries. It is built in the mountains overlooking Chiang Mai, to take advantage of the cool mountain air. The rose gardens are particularly famous (Suan Suwaree), with temperate plants grown here that are not commonly found in Thailand.
The palace was built in central Thai architectural style called ruean mu ("group of houses"). The building sits on stilts. The upper floor is the royal residence while the ground floor houses the royal entourage. The building master plan was designed by Prince Samaichalerm Kridagara while the building was designed by Mom Rachawongse Mitrarun Kasemsri. Construction of the palace was undertaken by the Crown Property Bureau, under the supervision of Prince Samaichalerm Kridagara, assisted by Mom Rachawongse Mitrarun Kasemsri and Pradit Yuwapukka. General Luang Kampanath Saenyakorn, the privy councillor, laid the foundation stones at 10:49 on 24 August 1961. Construction took five months. The first royal visitors to stay at the palace were King Frederick IX and Queen Ingrid of Denmark on their royal visit to Thailand in January 1962
See more attractions
More attractions that you might interested in.
Chiang Mai Travel Guide
Explore Chiang Mai holidays and discover the best things to do, top local restaurants, supreme shopping places and when and where to visit, etc.
Tailor-made Thailand Tours
Receive a free quote within 24 hours - Already more than 183,063 satisfied customers!
Create My Trip Now !