Bang Pa-In Summer Palace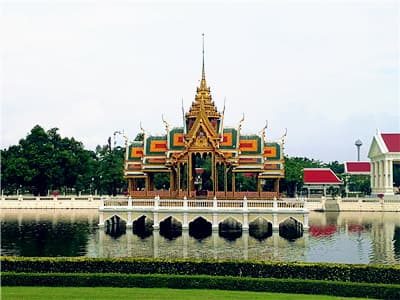 The Bang Pa-In Summer Palace contains a variety of striking buildings spread among manicured gardens, statue-lined bridges, ponds and fountains.
After finding the place well suited to quiet breaks from Bangkok, King Rama V commissioned the palace to include an unusual mix of Thai, Chinese and European architecture in the late 19th century.

Near the entrance, a wooden exhibition hall contains background info on Thai kings and the history of the Palace. The checkered marble verandas of Thansana Tower are worth the climb to catch a cool breeze and take in views over the grounds (mind your head going up the stairs). Nearby, the beautiful red-and-gold Royal Mansion features hand-painted ceramic floor tiles, mother-of-pearl inlaid furniture and an elaborate camel bone carving. By all accounts King Rama V liked a lot of company, and the small houses found along the outer wall were designated for his lady friends.
Explore Ayutthaya City
Find complete list of Thailand tour packages including culture, nature, food or adventure activities for families and couples. The choices of over 90% customers with reasonable price! Get your customizable itinerary in UME now!
Discover All Attractions
Browse a large range of must-see landmarks, explore unique tourist spots like a local or go somewhere off the beaten track.
Tailor-made Thailand Tours
Receive a free quote within 24 hours - Already more than 183,063 satisfied customers!
Create My Trip Now !