Asiatique The Riverfront
LOCATION: thailand,bangkok
WEB: none
PHONE: none
OPEN TIME: none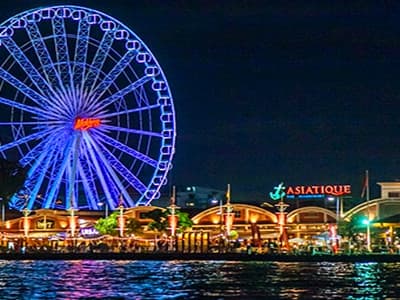 Overview:
ASIATIQUE The Riverfront will be Bangkok's first large-scale riverside project combining shopping, dining, sightseeing, activities and events under one roof. The strong cultural aspect is what sets it apart from other shopping malls. Embracing history, but avoiding the cultural clichés and traditional symbols, it strikes a balance between tradition and globalization.
A completed travel guide for first time visit to Asiatique Bangkok, including what to do, how to get there, what to buy and all entertainments here.
See more attractions
More attractions that you might interested in.
Great Bangkok Tour Packages
Bangkok Local Tips
Get drown in information? UME has gathered the most useful guides and tips about Bangkok tourism – everything first timers needs to plan a wonderful dream Bangkok tour.
Tailor-made Thailand Tours
Receive a free quote within 24 hours - Already more than 183,063 satisfied customers!
Create My Trip Now !