Akha hill tribe
LOCATION: thailand,chiang-mai
WEB: none
PHONE: none
OPEN TIME: none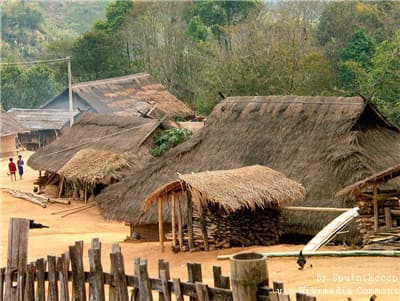 Due to rapid social and economic changes in the regions the Akha inhabit, particularly the introduction of Western modes of capitalism, attempts to continue many of the traditional aspects of Akha life are increasingly difficult. Despite these challenges, Akha people practice many elements of their traditional culture with much success.
Akha society lacks a strict system of social class and is considered egalitarian. Respect is typically accorded with age and experience. Ties of patrilineal kinship and marriage alliance bind the Akha within and between communities. Village structures may vary widely from the strictly traditional to Westernized, depending on their proximity to modern towns. Like many of the hill tribes, the Akha build their villages at higher elevations in the mountains.
Akha dwellings are traditionally constructed of logs, bamboo, and thatch and are of two types: "low houses", built on the ground, and "high houses", built on stilts. The semi-nomadic Akha, at least those who have not been moved to permanent village sites, typically do not build their houses as permanent residences and will often move their villages. Some say that this gives the dwellings a deceptively fragile and flimsy appearance, although they are quite well-built as proved over generations.
See more attractions
More attractions that you might interested in.
Chiang Mai Travel Guide
Explore Chiang Mai holidays and discover the best things to do, top local restaurants, supreme shopping places and when and where to visit, etc.
Tailor-made Thailand Tours
Receive a free quote within 24 hours - Already more than 183,063 satisfied customers!
Create My Trip Now !